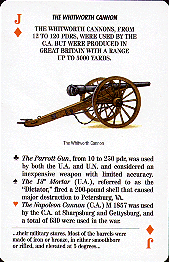 Jack of Diamonds
The Whitworth Cannon
The Whitworth cannons, from 12 to 120 pdrs, were used by the Confederate Army but were produced in Great Britain with a range up to 5000 yards.
The Parrott Gun, from 10 to 250 pdr, was used by both the Union Army and the Union Navy and considered an inexpensive weapon with limited accuracy.
The 13" Mortar (Union Army), referred to as the "Dictator," fired a 200-pound shell that caused major destruction to Petersburg, VA.
The Napoleon Cannon (Confederate Army) M 1857 was used by the Confederate Army at Sharpsburg and Gettysburg, and a total of 630 were used in the war.
...their military stores. Most of the barrels were made of iron or bronze, in either smoothbore or rifled, and elevated at 5 degrees...
---
Return to Arms and Armaments page

Or send me mail.