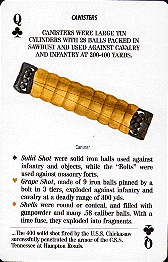 Queen of Clubs
Canisters
Canisters were large tin cylinders with 28 balls packed in sawdust and used against cavalry and infantry at 200-400 yards.
Solid Shot were solid iron balls used against infantry and objects, while the "Bolts" wre used against masonry forts.
Grape Shot, made of 9 iron balls pinned by a bolt in 3 tiers, exploded against infantry and cavalry at a deadly range of 300 yards.
Shells were round or conical, and filled with gunpowder and many .58 caliber balls. With a time fuse, they exploded into fragments.
...The 400 solid shot fired by the U.S.S. Chickasaw successfully penetrated the armor of the C.S.S. Tennessee at Hampton Roads.
---
Return to Arms and Armaments page

Or send me mail.