The Oscar Wilde Playing Cards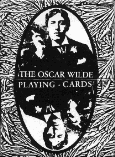 R. Fanto, Presage International
---


This is one of those friendly decks that comes with substantial explanatory notes. Of course, it has to, because unless you're a serious student of Wilde's work, all this becomes quickly opaque. The deck is the creation of R. Fanto (also responsible for the artwork in the Ulysses a Vau-de-Ville), copyrighted in 1986, with the close collaboration of Richard Ellmann, a biographer of both Wilde and Joyce. Fanto did all the artwork, and Ellmann did the conceptual design, determining the themes and images to be executed. The title card at left reads, "Richard Ellmann & R. Fanto / Present / The Oscar Wilde Playing Cards." The card backs, at right, offer palm fronds and Wilde's initials.
The cards themselves are black and white hand drawings with small splashes of color and gold illumination. It's hard to capture the gold color with a scanner, but I did my best. The artwork is of high quality, though stylized, and delivers a real feel for Wilde's life and the environment he lived and worked in. It doesn't try to present a narrative of either himself or his works, but rather it is the progressive development of themes, images and events encapsulated into the cards. The cards Ace through Ten form the chronological sequence, and the Jacks through Kings are the main forces in Wilde's life and work.
From the introductory card in the deck:
Master of pleasure and indolence, Oscar Wilde is an appropriate subject for a deck of playing cards. His name dominates the world. We have only to hear it to anticipate that what will be quoted as his will surprise and enliven us. No one has been so witty for hundreds of years. His ascent to literary success, and then the collapse of his fortunes, provide one of the most brilliant and tragic sequences in the history of literature.

The Oscar Wilde Playing Cards condense Wilde into pictorial form. Three suits are based upon his writings: Hearts are Instigations, Clubs are Images, Diamonds are Complications. Spades are Happenings in his life. Richard Ellmann, Wilde's biographer, has devised the intricate scheme, and R. Fanto has executed the witty and unexpected drawings, with occasional allusion to previous designs.

© R. Fanto 1986, © Richard Ellman
There is also a paper insert in the deck which offers a much more detailed explication of the deck, illuminating the parallels within the suits and across the numbers, and the progression of the deck from Aces to Kings. But it's long. Very long, for a simple introduction to the deck as I'm offering here. If you really want the deck, find it, buy it, cherish it. Contact information for Presage, such as it is, is in my Manufacturer's Page. However, I am including some snippets from this sheet as it refers to the individual cards on display.
All images © R. Fanto 1986, displayed here for commentary and analysis only.
Seven of Diamonds

Hallward Stabbed

Nine of Spades

Prisoner C.3.3

Three of Hearts

Salome

Jack of Diamonds

Willie Hughes

Jolly Joker

Jolly Joker

King of Clubs

Victoria Regina
Each card number reflects a particular theme. The cards presented here are thus: Three - Fatal Passions; Seven - Criminal Acts; Nine - Persecutors; Jack - Knave; King - Principal. For brevity, I include only the commentary on two of the numbers, Three and Nine.
Three: Three is the number assigned here to fatal Passions, such as Salome's; her lust is for the lips of Jokanaan and, once his head has been ripped from his body, she kisses them. Her mother Herodias serves as a goad both for her husband Herod and her daughter. Wilde's best known passion among women was for the P.B. (Professional Beauty) Lillie Langtry.

Nine: Herod earns his position among the Persecutors of the ninth cards by ordering his stepdaughter Salome's execution. The image of a man hanged for killing his wife worked upon Wilde's mind so that he wrote "The Ballad or Reading Gaol." The razor with which the murder was committed led to the man's conviction and execution. In life, Wilde became prisoner C.3.3., the butt of warders and prison governors.
The deck is worth sitting down to read as much as Wilde himself is. It's enlightening, fascinating, entertaining, a complex weaving of many threads into a tapestry of Wilde's life and work. Find it, buy it, cherish it.
There are many sites on the web dedicated to Wilde himself, my favorite being The Wild Wilde Web. It includes a short biography on Wilde, his sayings, a bibliography, and other good resources. Other links can be found from Yahoo's Oscar Wilde page: Yahoo! - Arts : Humanities : Literature : Genres : Drama : Playwrights : Wilde,_Oscar_(1854-1900)/.
---
Return to cards page

Send me mail.