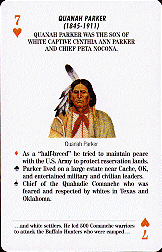 Seven of Hearts
Quanah Parker
(1845-1911)
Quanah Parker was the son of white captive Cynthia Ann Parker and Chief Peta Nocona.
As a "half-breed" he tried to maintain peace with the U.S. Army to protect reservation lands.
Parker lived on a large estate near Cache, OK, and entertained military and civilian leaders.
Chief of the Quahadie Comanche who was feared and respected by whites in Texas and Oklahoma.
---
... and white settlers. He led 500 Comanche warriors to attack the Buffalo Hunters who were camped...